Before I start my blogpost, I just want to say my husband is fantastic. He's currently folding the laundry
so I can have time to write. I am truly blessed with a great spouse who is really great at helping me in all things, and is especially great at reading food labels. I love you Brad!
When I started out my blog title, I thought I would get creative with the Udi's name. To be perfectly honest, I am an ambassador for their company, but I
DO NOT
get paid for my comments. All of my comments are sincere, and I have been enjoying their baked goods long before I started being an ambassador. I truly do enjoy their products because they really
are
unbelievably delicious, not to mention wholesome. Did you know that they are currently being certified with the
NON-GMO project
? I was having a bit of trouble coming up with an "I" word, so I got out my dictionary. I think ideal sums Udi's up well. The definition of ideal is "Thought of as perfect or as a perfect model; exactly as one would wish." In this gluten free world, so often there are products that fall short of its gluten containing counterpart. Udi's gluten free food taste like food should taste, and that's what makes them the "ideal" gluten free company.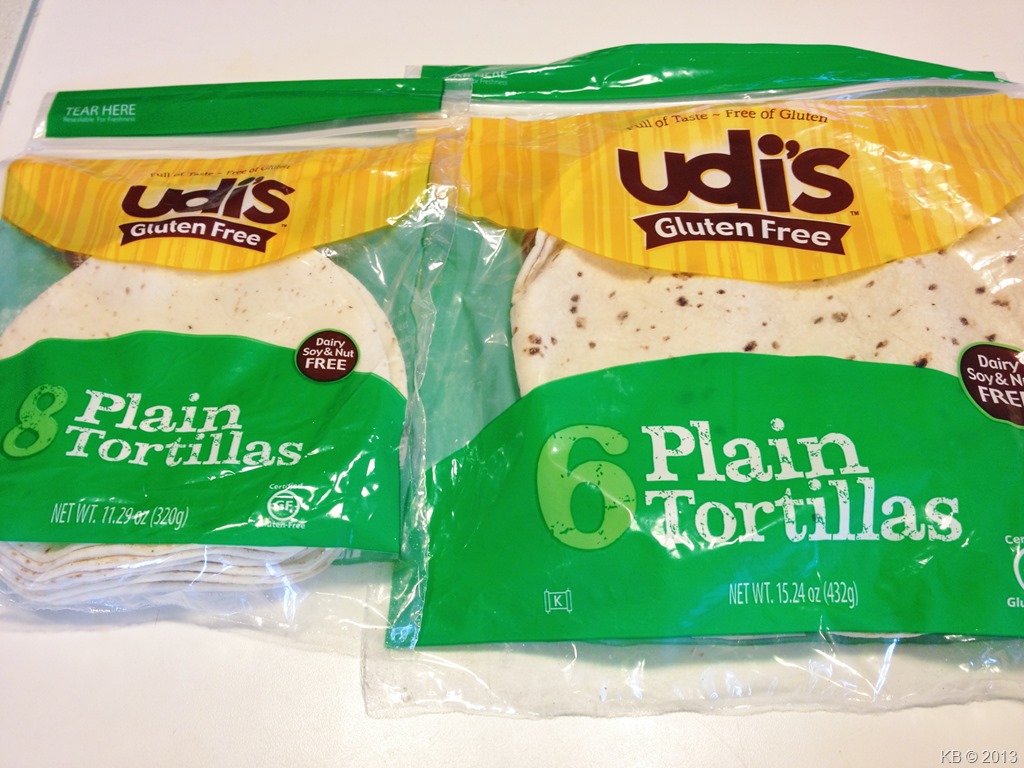 photo taken from glutenfreeislife.com
Udi's has new tortillas. They are AWESOME! They are gluten, dairy, soy and nut free. They come in two sizes, large and small. I had the large tortillas and used them to make some great black bean quesadillas. They are not available as of this posting on Udi's
website
, but when they are they will be $5.20 for a large package, $4.35 for a small package. You can use their store locator on their website to find them at a store nearest you. I have found the smaller tortillas at my local Meijer store. You can find them at Amazon as well. The large tortillas are 170 calories, and the smaller ones are 90 calories, making them one starch exchange. The smaller tortillas have 3 grams of protein per tortilla which is much more than comparable GF tortillas on the market.
Not only did I really enjoy them, my husband did as well. He said he actually preferred them to regular flour tortillas! They are super malleable and function just like a traditional flour tortilla.
photo taken from glutenfreephilly.com
I also sampled Udi's new granola bars. Right upfront, I want to let you know that they contain gluten free oats. I am one of those celiacs that still cannot tolerate oats, but I took a small bite for the good of the cause and passed the rest off to my husband. He thoroughly enjoyed them as well. He stated that he liked the fact that they are chewy. They have added Vitamin E and contain nuts and flaxseed, which adds bulk and fiber.
I also love Udi's new bagels. Their newest flavors are the "Everything Inside" and "Mighty" bagels. I never thought I would like an Everything bagel, because I don't think of consuming garlic and onion flavors in my breads at breakfast. Boy was I wrong! With a little cream cheese and a bit of egg, the Everything bagel becomes a symphony of flavors to awaken your taste buds first thing in the morning. Celiacs no longer have to go without fantastic bagel sandwiches. I know that Dunkin' Donuts is starting to carry their own products...I vote that they just partner up with Udi's and save themselves the hassle!
Their Mighty bagel is loaded with dried cranberries and sunflower, pumpkin, millet and flaxseeds to give you a great dose of fiber in the morning, plus 8 grams of protein. I didn't even need to put cream cheese or butter on these...they were great warmed up plain.
Not only does Udi's make great products, they are great community partners. They sponsor walks, participate in expos, and donate products to gluten free summer camps. They love to be active in the community. What health related events are going on in your area that Udi's should know about?
Labels: product review